What's the Rub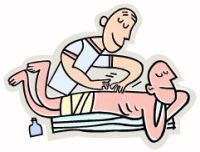 You can experience a form of healing and relaxation that has been around for centuries. You can experience the art of massage.
What can massage do for you?
Professional massage therapy can:
provide anything from soothing relaxation to deeper therapy for specific physical problems.
help relieve stress and anxiety.
aid recovery from pulled muscles or strained ligaments.
relieve certain repetitive motion injuries related to on-the-job activities.
greatly reduce pain and discomfort from such problems as temporal mandibular joint dysfunction (TMJ), carpal tunnel syndrome as well as many other painful chronic conditions.
compensate, in part, for lack of exercise and muscular contraction for individuals who, because of age, injury, or illness, are forced to remain inactive.
What happens during your massage?
Once your massage is underway, many different and beneficial reactions are set into motion. Massage therapy helps:
hasten the elimination of waste and toxic debris that can be stored in muscles and other tissues.
speed up the interchange of substances between blood and tissue cells.
increase the oxygenation of the tissues.
stimulate the relaxation response within the nervous system.
All of these reactions and responses can help:
strengthen the immune system.
improve posture.
increase joint flexibility and range of motion
lower blood pressure.
There are times when the use of massage may not be beneficial or appropriate for certain medical or physical conditions. Your physician should be consulted prior to initiating a massage program for any particular medical or physical condition. Also, a professional massage therapist can help determine if or when a massage program may or may not be appropriate.
What can you expect prior to and during your massage?
Your massage therapist wants to do everything possible to insure that your massage experience is positive, safe, and rewarding. You will be asked about your reasons for getting a massage, current physical conditions, medical history, life style, stress levels, areas of pain, and other pertinent topics. For your convenience a downloadable Client Intake Form is available on the "FORMS AND DOCUMENTS" page.
It is your responsibility to inform your massage practitioner of any current or past physical or medical conditions that may be adversely affected by massage.
You will be asked to undress in private and to lie face down on a comfortable and sturdy massage table. The less clothing worn during a massage the better. However, you do not have to be naked and draping methods can be used to insure your comfort and modesty.
Commercially prepared oils and lotions will be used during your massage session to help insure your comfort and the proper lubrication of your skin. These oils are usually unscented, good for your skin, wash off easily, and shouldn't stain your clothing. You will be provided with a personal hand towel to rub off any excess oil at the end of your massage session.
You should expect a peaceful and comfortable environment for your massage. Report distractions of any kind to your massage practitioner, whether from physical discomfort or pain, room temperature, music type or volume, or any other source. Also, you may direct your massage practitioner to use deeper or lighter pressure and/or to repeat massage strokes you find particularly beneficial or enjoyable. If your massage practitioner doesn't hear from you, he or she will assume everything is fine and proceed with the established massage sequence.
Just relax and enjoy your massage.
When your massage session is over you will be left alone to let the massage soak in for a few minutes. Then, you will carefully sit up, slide off the massage table and get dressed. After you are dressed you should have a drink of water, pay your therapist with cash or a check and schedule your next appointment. Gratuities are appreciated but not necessary.